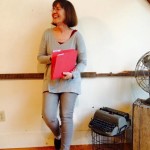 S Stephanie is available for poetry workshops, readings, and manuscript consultation.
As a Poet and Creative Writing Instructor with a background in nursing, S Stephanie promotes Creative Writing as an Art which offers people the opportunity to discover, to remember, and to explore their personal stories and unique experiences.  She believes that sharing these in the workshop setting promotes a sense of community and understanding.  That Creative Writing, as all the Arts, not only helps build stronger, culturally and socially rich individuals, but communities as well.  She has taught children and adults of all ages in diverse settings conducting workshops formally in schools and college classrooms and in more informal settings such as libraries, community centers, and senior/retirement centers.
She has worked one-on-one and in groups with Alzheimer's and dementia patients utilizing Poetry as a memory aid, and with seniors as a social enrichment activity.  She holds an MFA in Writing Poetry from Vermont College of Fine Arts, is a published Poet with three chapbooks out,  and currently teaches at the NH Institute of Art in their BFA and MFA program.
Programs Offered: 2-4 hour Workshops, Lectures , Readings, and One-On-One programs
Populations Served:  All
Availability:  Year Round
Fee:  Negotiable (sometimes will barter)
Contact Information:
By Mail: 164 Maple Street, Manchester NH 03103
By Phone: (603) 624-2801
By email:ssteph@comcast.net